Do you wish you could communicate better with your horse?
Do you wish you could have fun with your horse?
Or do you just want to lie around with him?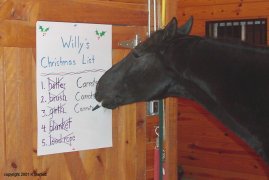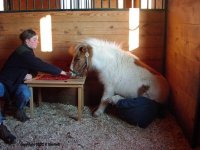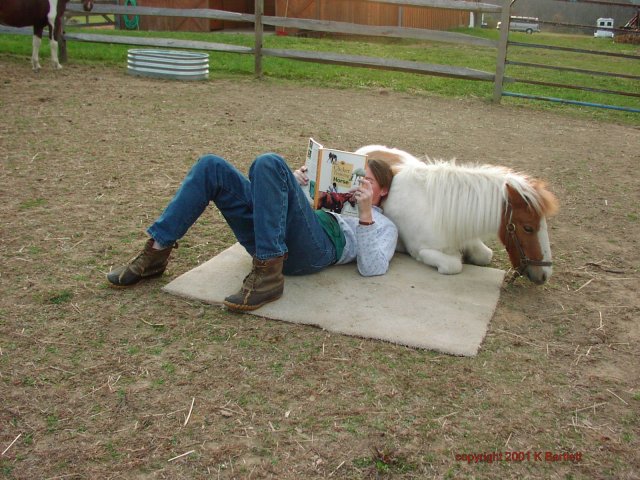 All these things are possible with a clicker trained horse. With clicker training, you can teach your horse all the skills he needs and have fun at the same time. With clicker training, your horse learns faster because he is actively trying to learn what you are trying to teach him. You are truly working together toward a common goal.
This site is set up as an educational site to help people learn about clicker training. You will find some basic information in the CLICKER BASICS, FAQ and GETTING STARTED sections. If you are already clicker training, then you will want to visit the articles section for more advanced topics. I also share training information on my blog: www.equineclickertraining.wordpress.com and my facebook page: Equine Clicker Training - Katie Bartlett.
-------------------------------------------------------------------------

Monthly News for December 2016
How about putting a trip to a conference on your Christmas list? There are some great learning opportunities in 2017, with two ClickerExpos and the Art and Science of Animal Training Conference.
The January ClickerExpo in Portland, Oregon will have more presentations that are specific to horse training then the March one in Stamford, Connecticut, but I'm sure both will be great. it's a great chance to see what's new, connect with other clicker trainers and immerse yourself in clicker training for a few days. You can find out more about ClickerExpo by going to www.clickerexpo.com.
The Art and Science of Animal Training conference will be held in February in Irving, Texas (near Dallas/Fort Worth) and has expanded to be held over 2 days. The tickets are currently sold out, but there's always the possibility of last minute cancellations if you want to contact them, or you can put it on your wish list for 2018.
Katie
-------------------------------------------------------------------------

-------------------------------------------------------------------------
This site now has a facebook page that is where I will post updates about what's new on the site, share what I am doing with my own horses, and post other items of interest. The site is named Equine Clicker Training - Katie Bartlett. To go to it from here, you can click on the link below.

Blog
I also have a blog,
www.equineclickertraining.wordpress.com
, where I have been posting some of the longer articles
Training Tip: When teaching a horse head down, it is not uncommon for the horse to take a step forward as he drops his head. This is normal grazing behavior and just means it is his pattern. I find that teaching head lowering using a stationary target placed near the front feet often minimizes this tendency to combine foot movement with lowering the head.
More Training Tips
| | | |
| --- | --- | --- |
| | Equine Clicker Training | |