Zanís Story: an inside look at clicker training
Katie Bartlett writing for Rosander Bartlett
May 2004
Hello! My name is Rosander and I am a Dutch warmblood colt. I was born and live on a small farm in Pennsylvania. My horse mom lives here too, although I donít get to play with her anymore. Now I play with my friend Willy and my human mom, Katie. I am lucky to have two moms. I have never met my Horse Dad as he lives on another farm. I hear that he is beautiful and a great jumper. Katie says I look a lot like him. By the way, you can call me Zan, everyone else does. Sometimes they even call me Zooming Zander because I'm so fast. Whee!
I am a year old and have had a pretty fun life so far. A lot of foals just hang out with their friends until they are old enough to be ridden, but not me. I am the only foal here so I get lots of attention and since Katie is clicker training me, I get to play lots of fun games. In addition, she makes my regular horse lessons fun too. And, donít worry, I do get plenty of time to hang around and be a foal.
Before I tell you about what I am doing now, let me tell you about all the things I have already done. I have learned a lot of great stuff which I would like to tell you about. Luckily, I have been keeping a journal since a few days after I was born. Well, I do have some help with writing things down. Sadie the cat is an excellent typist, when she is not distracted by the mouse or the cursor. Maybe Iíll get her picture some day. Oh, if you have any questions about what I describe, youíll have to ask Katie as she knows all the details.
If you want to skip around, my journal is organized with monthly entries. Some of these entries are not complete and I will add more information later. Don't forget to read the end of this introduction which has the story of my birthday.
The journal entries are:
May 2003: May 6 : Getting started
May 2003: May ĖJune: I learn some new rules
October 2003: weaning, a new friend and cross ties
October 2003: meeting the vet and shots
December 2003: the Christmas card
December 2003-Jan 2004: the tarp
March 2004: a trip to the ring
April 2004: learning to trot in hand
August 2004: the Round Pen, part 1
October 2004: the Round Pen, part 2
THE BEGINNING (May 2003)
I was born on May 1, 2003 at 10:00 in the morning. This was about a week after expected and Katie had been waiting for me. Rosie had never had a foal before and was taking her time. Then when the time came, she was very sneaky. She waited until Katie left the barn (where she had been sleeping!) and went in the house. Rosie had been turned out in her field, but after Katie left, she went back into her stall and started to give birth to me. Luckily Katie was sneaky too and she came back out, so both moms were there when I was born. It was a good thing there were three of us there to help figure things out, because none of us had been through this before. Luckily everything went really well, although it did take me a while to figure out how to stand and find some the right spot to nurse. I checked lots of places (Rosie's legs, tummy, tail) before Katie helped me find the right spot. Rosie was very patient. She squealed a bit, but she did let me bumble around until I found the right spot. Once I knew where to go, I was all set. It might have been easier if Rosie hadn't decided to give me a bath right away. Right after I was born, Katie was helping me stand up and Rosie started licking me all over. She got so carried away that she started licking Katie too. Everyone was very patient with me and once I caught on, there was no stopping me.
Here are some pictures of me on my birthday.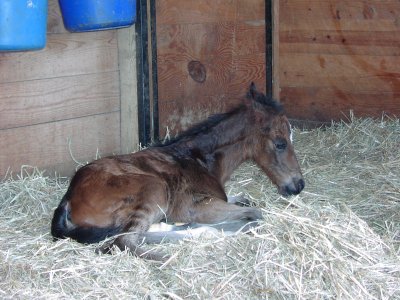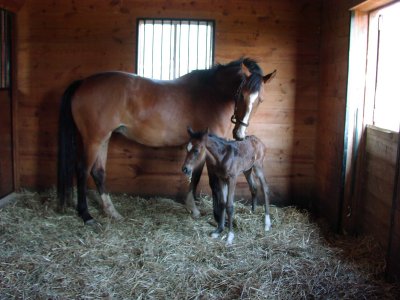 I had to stay in the stall with my horse mom for 3 whole days before I got to go out. Rosie kept a really close eye on me. For the first two days, she stayed so close to me that sometimes she forgot to eat. Katie had to hold the bucket in front of her so she would have some dinner. Rosie still liked to lick me all over. She licked, and licked, and licked me all the time. I got so tired of her licking me that I started to buck when she licked the top of my rump.
I had lots of visitors during those days. They would look in over the stall door and say how cute I was. Katie was there a lot too. She touched me all over and talked to me. She would come in the stall and walk up to me and put her arms around me, just like a big hug. But she didn't hold me tight. She just kept her arms there so I couldn't run forward or backward and she would find my itchy spots and scratch me. Just a little scratch at a time. Sometimes she really found the right spot and I crinkled my nose all up. Sometimes Katie sat down with me when I was resting and stroked me all over. I liked it, but I had some very tickly spots. Sometimes she just sat in the corner of the stall and watched me. Rosie would go over and sniff her, but I was too shy the first day. On the second day, I went up to her and sniffed her and then jumped away. It was too scary. By the third day, I was feeling brave so I went up to her and sniffed her, and then reared right in her face. I was feeling pretty good! I donít think Katie liked that, as after that, she wouldnít let me come too close. She would let me come near and then ask me to wait and then she would approach me. She didnít like it when I pushed her around or tried to bite her. I guess even little foals have to have some manners too.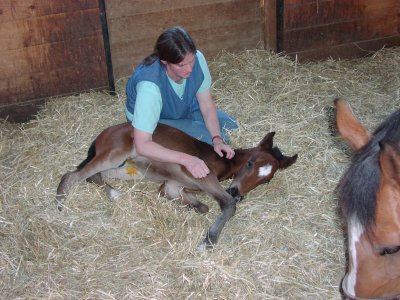 Finally, it was time to go out. I was so excited to run. I made Rosie run all over the place chasing after me.
Here we go: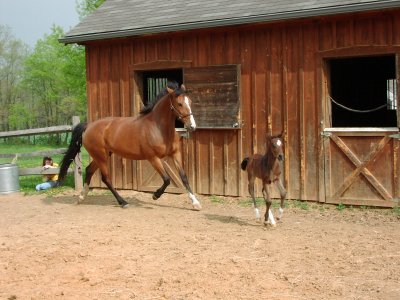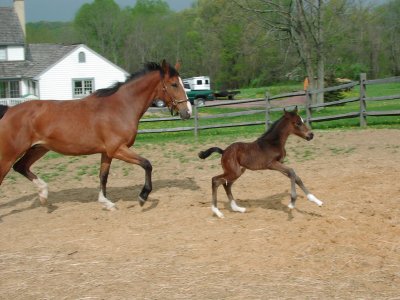 If you want to read more about me, the next story is Getting Started
Home | Articles | Clicker Basics | Community | FAQ | Getting Started | Horse Stories | Links | Photos | Resources
| | | |
| --- | --- | --- |
| | Equine Clicker Training | |